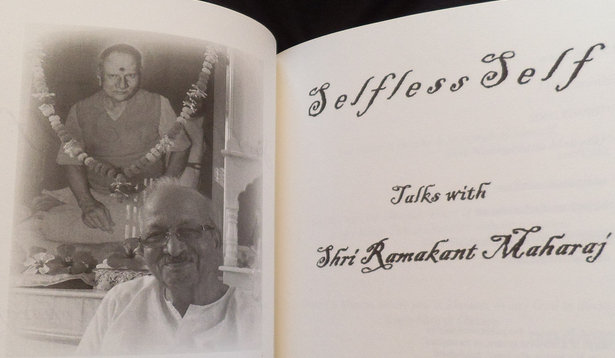 Maharaj. Therefore Shankaracharya says "To say I is illusion, to say you is illusion, to say Brahman is illusion, entire world is illusion." Then where do you stand? If entire world is illusion then what knowledge is there?
D. YES BUT IT MAKES YOU VERY ANTI-LIFE THOUGH.
Maharaj. Don't confuse yourself!
N. HE IS SAYING THAT IT MAKES IT SEEM LIKE LIFE HAS NO VALUE...
Maharaj. WhosE life?
D. WELL THE ONLY VALUE I SEE IN LIFE IS FOR CONSCIOUSNESS TO FIND ITS WAY BACK WHERE IT BELONGS.
Maharaj. Consciousness is there but prior to beingness do you know about consciousness or non-conciousness? After leaving the body do you know about any consciousness? Awareness? These are the sweet words just for understanding. Consciousness, realization, enlightenment, God, mind, ego, intellects. So many words are there. Out of your presence these words appear. I am placing before you - prior to conciousness/beingness, Prior to beingness. Question yourself how you were prior to beingness. You don't know.
D. YOU CAN'T FATHOM. YOU CAN'T EVEN IMAGINE
Maharaj. Because your identity is beyond imagination.
D. YES IT'S BEYOND THE MIND
Maharaj. Your presence is beyond imagination. When you are imagining something you are taking the ego of the body and you are not body at all. To talk about knowledge you have to take ego of the body, mind, intellect.
D. SO THE MINUTE YOU TALK YOU ARE PARTICIPATING IN A FICTION.
Maharaj. Through talking you are establishing your Ultimate Truth. Through various words establish you are Ultimate Truth. Not to play with the words. Not to analyse words. What is Ultimate Truth after all? What are they trying to convey? So many spiritual words are there.
Maharaj. No you, no I , just like sky. No you, no I, just like sky. Does sky know its identity? Spiritual science describes your identity just like a sky. It is everywhere. No relation to the body. After disappearing of the body how you will be? Who will talk about the consciousness, non consciousness. So no knowledge is knowledge. Everything came out of nothing. Everything dissolves into nothing. What remains?
D. IT'S A CRUEL JOKE.
Maharaj. So be normal. Because there is no past, no future, no present. No past, no future, no present. What happens after reading so many books. The particular words are influencing and we are trying to analyse these words: Ramana Maharshi says like this, Nisargadatta Maharaj says like this, Siddharameshwar Maharaj says like this and we are trying to make a comparative study of various words and at the same time we are ignoring the spirit that is trying to make comparative study. With various words they are indicating your Ultimate Truth. Accept that only! Who, you, he, she, it, not to play with the words. Just like playing cards giving you momentary happiness. What they wanted to convey that is most important.
..........................................................................................
Maharaj:

So ego is a disturbance on the way of spirituality [Maharaj holds a clenched fist] "I am somebody, I am somebody". Ego is not bad but it should be used very tactfully. Ego, mind, intellect, we can use very tactfully.
It is a combination: intellect, ego and mind. It is very interesting. Thoughts are coming in the mind, immediately it is reported to the intellect... it is very interesting....
Thoughts are coming in the mind [Maharaj points to the head]
Immediately it is reported to the intellect [Maharaj points a finger up towards the brain],

Intellect gives the instruction "do this thing" and then.....

[Maharaj gestures like a thump with clenched fist].
N.

It is very noticeable when you are angry or offended
M: Immediately we are getting instructions from the intellect - do this thing... instantly, immediate reactions.
M:

But you are Master of your own. You can control your intellect, mind, ego.
D:

You control the intention.
M:

You can control your mind, ego, intellects. So many thoughts are flowing inside... it is nature, good thoughts, bad thoughts. Suppose some thought comes that I should slap someone. Immediately you are to think why? This is the reasoning. Your inner voice says why? So you can stop that thought on the spot don't allow it to go to the intellect. Then no action. (but) If you allow that thought to go to the intellect, then immediately there is hammering [Maharaj gestures a punch].
It is really interesting. So what I am saying is that you are Master of all these subtle elements. Mind, ego, intellects, these are subtle elements, bodies. Invisible bodies. You are beyond that because you are commanding. You are not allowing .............. So through meditation you can control each and everything. There is great power, strength, strict watch, strict alertness. If any unwanted person comes you can stop it, 'you are not allowed to enter'. If any unwanted thought appears before you ....I am the technician, not my mind, ego, intellect. So likewise you can easily control yourself with the result that all activities will be controlled spontaneously
So to control mind, ego, intellects, meditation is required. It creates foundation, strong foundation, so no forces, external forces will attack you, dare to attack you.
........................................................................................................
Q: When doing things is it worth offering all action to the Sadguru, your Inner Master or the Master himself?
Maharaj: Why you are offering? Again you are taking (yourself to be) "I am somebody else and I am offering something to my Master. You are considering yourself an individual and I am offering something to you". There is no difference (between us) at all.
Q: Tricky, the ego.
Maharaj: Tricky, yes.
Q: It sneaks in the back door. [laughter]
Maharaj: So ego, mind, intellect are playing tricks with you. You have to be alert. Therefore bhajan is required, knowledge is required, meditation is required. So no trick will deceive you, cheat you. External forces are there every moment they are trying to trick you deceive you. [Maharaj holds up his hand gesturing 'stop'] "I know".
..................................................................................................
M:

These [bhajans] are like a kind of anti-virus stages. Through bhajans alertness is there. A kind of vibration is appearing inside. Vibration. Out of that vibration unwanted things, unpleasant things disappear. Suppose you are blowing something, (here Maharaj could be referring to making noise with a musical instrument like a conch or a trumpet) inside a house that means the thief outside will be alerted to somebody there inside. This is a simple thing. Forget about spirituality. If the lights are on inside the thief will not dare to enter inside. If sounds are there, some bells are blowing inside. So that means your presence, is alert presence. Even by the back door the thief will say alert presence is there and will not dare to enter inside.

Similarly bhajans, meditation, knowledge, these are sounding that the presence is there so no wrong thoughts, illusionary thoughts will try to enter
inside.



J:

It means that presence is not sleeping (is alert).

M: Yes. Therefore bhajan is required, meditation is required, because your spirit is very sensitive.